Custom Milling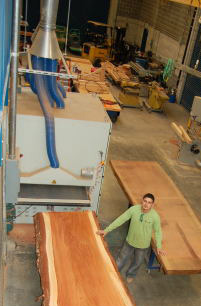 California Urban Lumber is your one-stop-shop for custom milling. We have the machinery to custom mill nearly any unique piece you require for your projects. We are one of the only mills in California that has a planer that can plane and sand a slab, glue up, table top or counter top that is up to fifty two inches wide and four inches thick. We have shapers and moulders that can create nearly any profile and we can also mill your logs to lumber. We also have three crane trucks, several large transport trucks, and several large fork trucks so can pick up, handle and deliver nearly any size log or piece to help you begin or finish your job.
Prices vary for each milling procedure so please call Bill Ridings for a quote or advice at 925-766-1912 or . We normally do not perform any milling operations on used or recycled lumber, but there are exceptions.
*In the event we encounter hardware (nails, bolts, etc.) in your material, an additional $65.00 per occurrence will be charged.